Which gloves should be worn on the bike?

If you ride a bike every day, you probably experience cold, numb fingers during autumn and winter. In the worst case, you might also experience itchy, even sore fingers due to the cold weather. A good pair of gloves can help reduce exposure of your hands and fingers to the cold and help alleviate these symptoms. But what should you look for when buying a new pair of cycling gloves?
Wind and waterproof
Wie door weer en wind op de fiets zit, wil natuurlijk graag met droge, warme handen op bestemming komen. Het is dan ook van groot belang dat de fietshandschoenen die je draagt zowel winddicht als waterdicht zijn. Stoffen handschoenen geven je niet de bescherming die je nodig hebt op de fiets. Stof neemt water op en dit sijpelt door tot op het bot. Het is beter om te kiezen voor lederen handschoenen. Leder valt soepel rond de hand en de vingers en in combinatie met een warme voering zijn ze wind- en waterdicht, zodat je met droge en warme handen op bestemming arriveert. Frickin heeft een groot aanbod van zowel dames als leren handschoenen voor heren that not only keep your hands dry but also look very stylish. Vegan leather is a good alternative if you prefer not to wear real leather. Vegan leather gloves are as comfortable and stylish as real leather gloves.
Warm lining
A warm lining is important if you do not want your fingers to get sore or itchy from the cold. Natural materials offer good resistance to the cold climate we have here in the Netherlands. Even when it is freezing and windy outside, a liner made of natural materials will keep your hands warm. These materials also ensure that the skin of your hands can breathe better, so that you do not get sweaty hands. It is therefore better to choose a natural wool or a more luxurious cashmere lining instead of a fleece lining or a lining made of artificial polyester.
Good grip on the handlebar
Of course, it is important that you do not lose your grip on the handlebars when wearing cycling gloves. Of course, you should still be able to brake in time and operate your gear levers properly while cycling. Thick gloves that make you lose all feeling for your handlebars are not really suitable for this. Leather or vegan gloves are a lot smoother, are comfortable around your hands and give you more grip on the handlebar. So you never lose control and you still don't have cold hands.
Picture of the Frickin logan: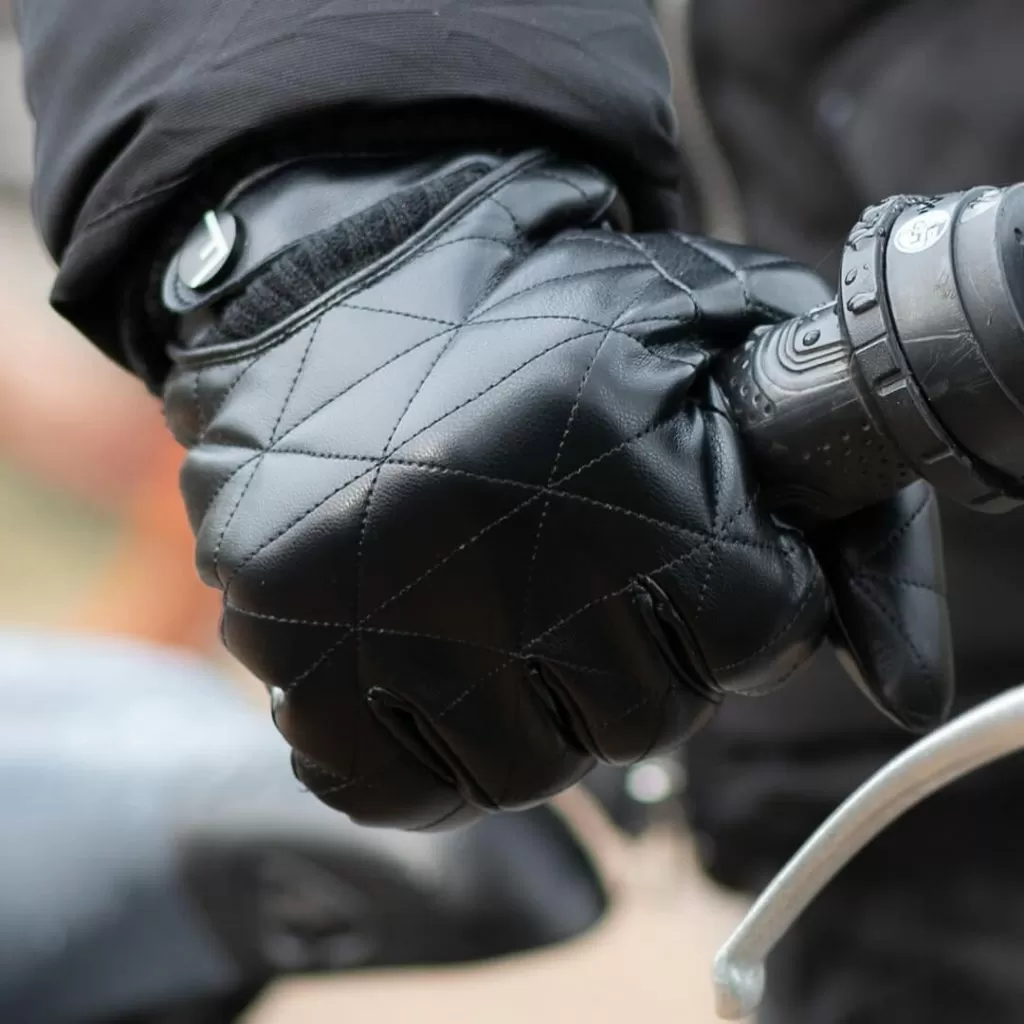 Buy your cycling gloves at Frickin
Frickin heeft een groot aanbod aan handschoenen voor op de fiets. Onze lederen handschoenen zijn zeer geschikt om op de fiets te dragen en zijn beschikbaar voor zowel ladies as gentlemen. De handschoenen worden vervaardigd uit diverse leersoorten, met elk zijn eigen goede eigenschappen. Schapenleer is fluweelzacht en voelt soepel aan terwijl geitenleer een dikkere korrel heeft en de handschoenen een stoere uitstraling geven. Handschoenen uit geitenleer zijn dan ook meer gegeerd bij mannen, terwijl vrouwen vaker kiezen voor handschoenen uit schapenleer.
If you prefer not to wear real leather, choose the best alternative - leather vegan gloves. These gloves are made from a high-quality and 100% recycled PU/PBAT eco leather mix. This means that the gloves are made without animal materials and without animal suffering. Of course, we didn't lose sight of the qualitative characteristics of real leather when designing our vegan gloves, and they have the same structure as real leather. That's why our vegan gloves can hardly be distinguished from real leather gloves. In addition, they are thick enough to ensure that you won't get cold hands during autumn and winter.
Whatever gloves you choose, with Frickin you are always assured of a warm, windproof and waterproof pair for cycling!
See our offer: