F1 (Men) - Black Leather Car Gloves with Brown Trim, Touch Function, Cut-Out Back & Knuckle Holes
Free shipment within 

🇳🇱🇧🇪🇩🇪

Working days for 23:45 ordered, tomorrow at home
Customers rate us 9.4/10
More information
Description
Brown Leather Car Gloves Men - F1
Driving is not only about the destination, but also about the journey itself. With our F1 car gloves, that journey becomes a true experience. These stylish and exclusive black gloves feel like a second skin and are perfect for various situations, whether you're in a convertible, car, on a motorbike or on a bike.
High-quality leather for ultimate comfort
Our F1 car gloves are made of high-quality sheepskin leather. This soft and supple leather adapts perfectly to the contours of your hands, making them feel like an extension of yourself. The perforated leather with cut-out back and knuckle holes allows your hands to breathe, preventing excessive sweating.
Improved grip and safety
A good grip on the steering wheel is essential for your safety on the road. F1 car gloves offer excellent grip, even in challenging conditions. This not only increases your safety, but also makes every drive more enjoyable.
Stay convenient and connected
In our modern age, connectivity is important, even while driving. That is why the F1 car gloves feature touchscreen functionality. This allows you to easily operate your phone or navigation system without having to take off your gloves.
Choose your Style
At Frickin, we understand that style matters. That's why we offer our F1 car gloves in various colours, including black, yellow, white and even pink. So you can get the car gloves choose the ones that best suit your personal style. In short, the F1 car gloves are a must-have accessory for every car lover. Increase your comfort, style and safety on the road with these exclusive gloves that should not be missing from your wardrobe.
Additional information
| | |
| --- | --- |
| Weight | N/A |
| Dimensions | N/A |
| Gender | Men's |
| Color | Black |
| Leather type | Lambskin |
| Size | S, M, L, XL |
| Style | Classy, Classical, Sporty, Trendy |
| Touchscreen function | Yes |
| Lining | Without lining |
| Size recommendation | Fits normal |
| Brand | Frickin |
| Pattern | Perforated |
| Seasonal collection | All Seasons |
| Washing instructions | Do not wash |
| Waterproof | No |
| Windproof | No |
| Length | Wrist |
Find your glove size
Follow the instructions in the size chart below to find the right size.
Want to give a pair of gloves as a gift? Then check out our comprehensive glove size chart here.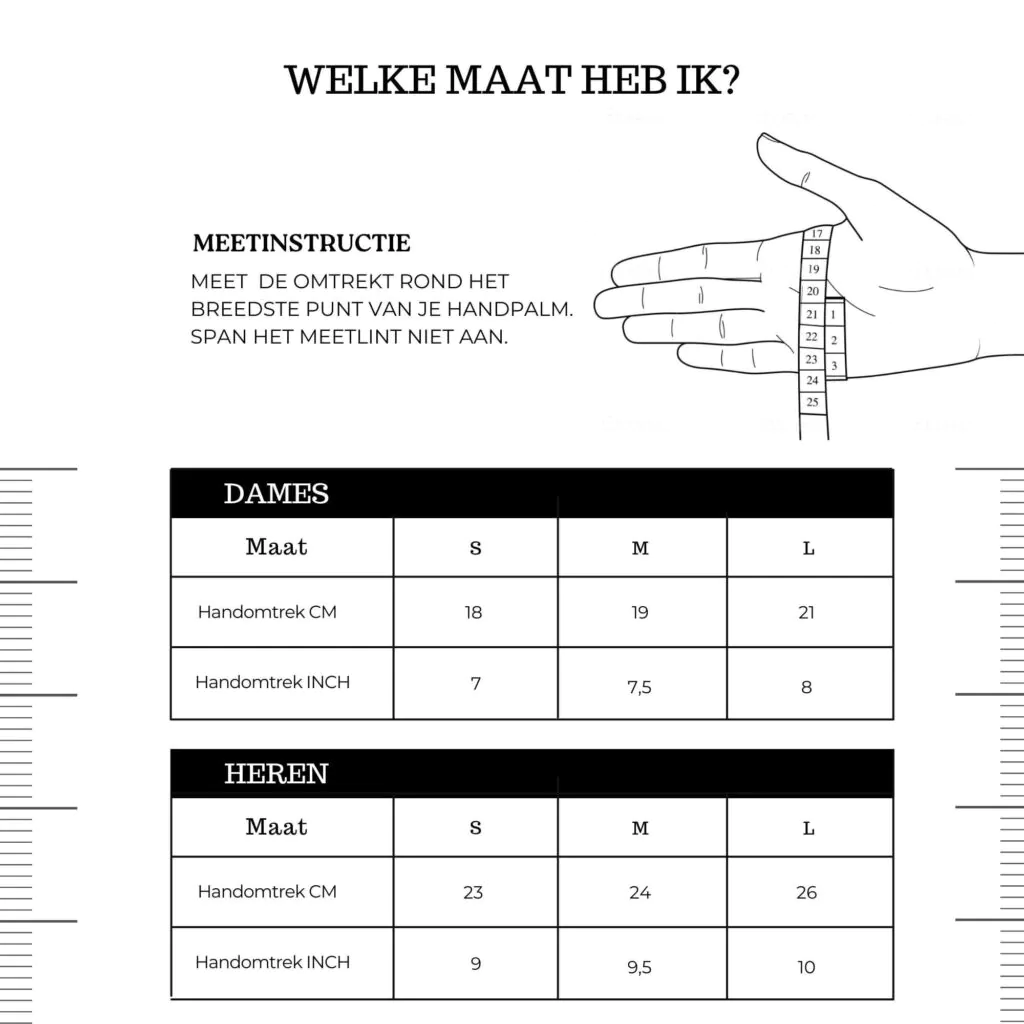 Shipping and delivery time
Frickin is a Dutch brand and we ship from our workshop/warehouse in the Netherlands.
If you order before 23:45 on Monday to Friday and your payment has been received on time, your order will be handed over to the delivery service for delivery on the same working day. Depending on how busy it is, especially around the holidays, you will receive your order within the specified number of working days:
🇳🇱 Netherlands - Free 

(Letterbox) parcel (1-2 working days, usually delivered the next day)

🇧🇪 Belgium - Free package (1-3 working days)

🇩🇪 Germany - Free parcel (DHL 1-3 working days)

🇫🇷 France - €4.95 parcel (GLS 2-5 working days)

🇦🇹 Austria - €4,95 parcel (GLS 2-5 working days)

🇩🇰 Denmark - €4,95 parcel (GLS 2-5 working days)

🇮🇹 Italy - €9,95 parcel (UPS 3-7 working days)

🇨🇭 Sweden - €15,00 parcel (UPS 3-7 working days)

🇫🇮 Sweden - €15,00 parcel (UPS 3-7 working days)

🇸🇪 Sweden - €15,00 parcel (UPS 3-7 working days)

🇬🇧 United Kingdom - €15,00 parcel (UPS 2-5 working days)

🇺🇸 United States - €15,00 parcel (Fedex 3-7 working days)
Here you will find more information on our shipping process.
Exchanges and returns
Exchange or return within 14 days of receipt.
Frickin's collection is exclusive and is not produced in large quantities. Due to our limited collection and the fact that gloves are seasonal, we offer the option of exchanging or returning orders within 14 days of receipt. 

DURABLE LEATHER GLOVES
Frickin aims to produce its leather gloves from by-products derived from the food, wool and dairy industries.
Leathers
Enter a wealth of versatility and character, where leathers a storytelling. Be seduced by the natural beauty and unique features that imbue each caress with a sense of timeless class.