Levi (Beige) - Thick Lammy Suede Men's Gloves with Premium Lambswool Lining
Free shipment within 

🇳🇱🇧🇪🇩🇪

Working days for 23:45 ordered, tomorrow at home
Customers rate us 9.4/10
More information
Description
Suede Gloves men - Levi
"Levi" zijn niet zomaar handschoenen; het zijn dikke lammy suede handschoenen heren die ontworpen zijn om je warm en stijlvol te houden, zelfs in de meest veeleisende weersomstandigheden. Met hun warme lamswollen voering bieden ze een ongeëvenaard niveau van comfort en bescherming tegen de kou.
Deze handschoenen komen in een opvallende beige kleur die je outfit echt doet opvallen. Ze voegen niet alleen warmte toe, maar ook een stijlvolle flair aan je look. Of je nu een wandeling maakt in de natuur of jezelf beschermt tegen de koude wind en lage temperaturen, "Levi" zijn de ideale metgezel.Wat deze handschoenen echt onderscheidt, is hun winddichtheid, wat betekent dat ze je beschermen tegen de gure wind en de winterse elementen op afstand houden. Ze bieden niet alleen warmte, maar ook stoerheid en stijl aan je wintergarderobe.
Kies voor "Levi" en omarm de winter met vertrouwen en comfort. Deze handschoenen zijn de perfecte combinatie van functionaliteit en mode, waardoor je er goed uitziet en je goed voelt, ongeacht de omstandigheden buiten. Ontdek tevens onze prachtige collectie leather gloves for women and make a stylish statement together. Take a quick look!
Additional information
| | |
| --- | --- |
| Touchscreen function | No |
| Size | S, M, L |
| Gender | Men's |
| Color | Camel |
| Leather type | Nubuck, nappalan |
| Style | Casual, Hipster, Modern, Trendy, Urban |
| Lining | Lammy |
| Size recommendation | Fits normal |
| Brand | Frickin |
| Pattern | Solid |
| Seasonal collection | Autumn/Winter |
| Washing instructions | Do not wash |
| Waterproof | No |
| Windproof | Yes |
| Length | About the wrist |
Find your glove size
Follow the instructions in the size chart below to find the right size.
Want to give a pair of gloves as a gift? Then check out our comprehensive glove size chart here.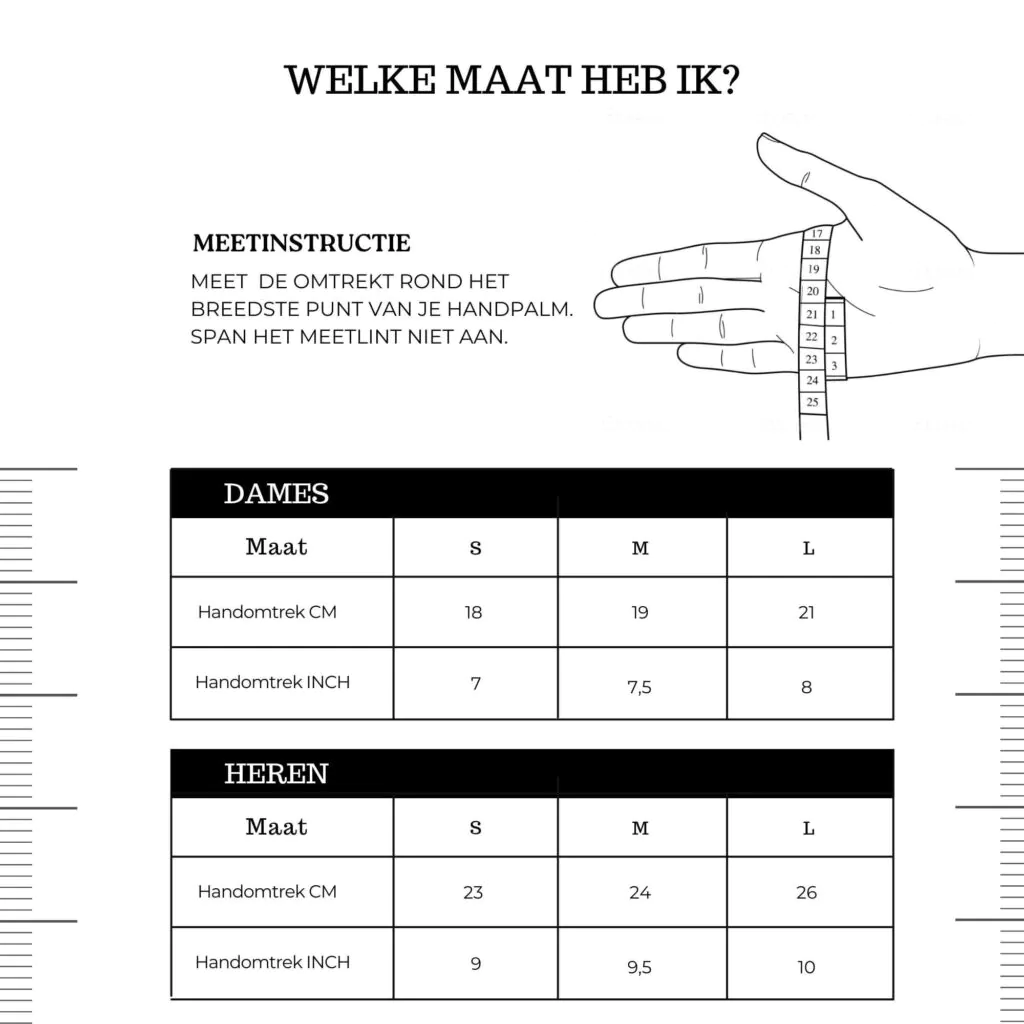 Shipping and delivery time
Frickin is a Dutch brand and we ship from our workshop/warehouse in the Netherlands.
If you order before 23:45 on Monday to Friday and your payment has been received on time, your order will be handed over to the delivery service for delivery on the same working day. Depending on how busy it is, especially around the holidays, you will receive your order within the specified number of working days:
🇳🇱 Netherlands - Free 

(Letterbox) parcel (1-2 working days, usually delivered the next day)

🇧🇪 Belgium - Free package (1-3 working days)

🇩🇪 Germany - Free parcel (DHL 1-3 working days)

🇫🇷 France - €4.95 parcel (GLS 2-5 working days)

🇦🇹 Austria - €4,95 parcel (GLS 2-5 working days)

🇩🇰 Denmark - €4,95 parcel (GLS 2-5 working days)

🇮🇹 Italy - €9,95 parcel (UPS 3-7 working days)

🇨🇭 Sweden - €15,00 parcel (UPS 3-7 working days)

🇫🇮 Sweden - €15,00 parcel (UPS 3-7 working days)

🇸🇪 Sweden - €15,00 parcel (UPS 3-7 working days)

🇬🇧 United Kingdom - €15,00 parcel (UPS 2-5 working days)

🇺🇸 United States - €15,00 parcel (Fedex 3-7 working days)
Here you will find more information on our shipping process.
Exchanges and returns
Exchange or return within 14 days of receipt.
Frickin's collection is exclusive and is not produced in large quantities. Due to our limited collection and the fact that gloves are seasonal, we offer the option of exchanging or returning orders within 14 days of receipt. 

DURABLE LEATHER GLOVES
Frickin aims to produce its leather gloves from by-products derived from the food, wool and dairy industries.
Leathers
Enter a wealth of versatility and character, where leathers a storytelling. Be seduced by the natural beauty and unique features that imbue each caress with a sense of timeless class.