Noah (Black) - Vegan Leather Ladies Gloves with Sleeve, Touchscreen & Fleece Lining
Free shipment within 

🇳🇱🇧🇪🇩🇪

Working days for 23:45 ordered, tomorrow at home
Customers rate us 9.4/10
More information
Description
Exclusive Elegance: Discover Vegan leather touchscreen gloves ladies - Noah
"Noah", a name synonymous with sustainability and style, offers an elegant option this winter for ladies who care about the environment. These black gloves are made of vegan leather, also known as eco-leather or faux leather. If you prefer not to wear real leather then these gloves are perfect for you.What makes "Noah" really special is its versatile and trendy sleeve. The gloves can therefore be worn in two ways, with or without a sleeve, so you can always choose and customise your own style for extra comfort or warmth. They are the perfect finishing touch for any outfit, whether you have a casual day or a night out.
With a warm fleece lining, these gloves are designed to keep your hands snugly warm even on the coldest days of the year. Plus, you'll never have to miss a call or delay a status update on social media again, as the gloves are touchscreen compatible with any device. Want to make the holidays even more special? Then consider surprising your partner with a nice pair of vegan gloves for men, such as the model Logan. Together, you can enjoy style, warmth and comfort, plus Frickin is Co2 neutral from manufacture to delivery. Choose Nog and embrace winter with elegance and eco-friendliness.
Additional information
| | |
| --- | --- |
| Weight | N/A |
| Dimensions | N/A |
| Gender | Women's |
| Color | Black |
| Size | S, M, L |
| Style | Casual, Classy, Hipster, Modern, Trendy |
| Touchscreen function | Yes |
| Lining | Fleece |
| Leather type | Vegan leather |
| Size recommendation | Fits normal |
| Brand | Frickin |
| Pattern | Solid |
| Seasonal collection | Autumn/Winter |
| Washing instructions | Do not wash |
| Waterproof | Yes |
| Windproof | Yes |
| Length | About the wrist |
Find your glove size
Follow the instructions in the size chart below to find the right size.
Want to give a pair of gloves as a gift? Then check out our comprehensive glove size chart here.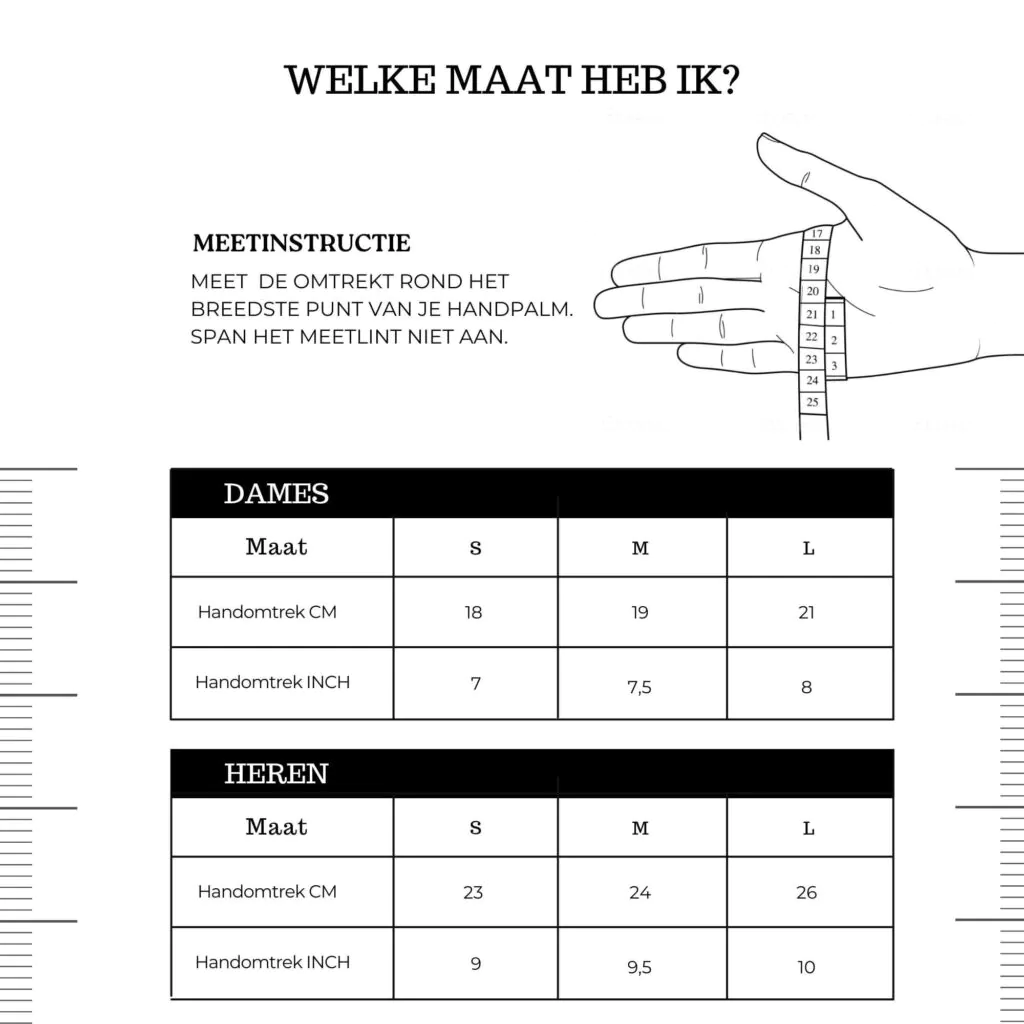 Shipping and delivery time
Frickin is a Dutch brand and we ship from our workshop/warehouse in the Netherlands.
If you order before 23:45 on Monday to Friday and your payment has been received on time, your order will be handed over to the delivery service for delivery on the same working day. Depending on how busy it is, especially around the holidays, you will receive your order within the specified number of working days:
🇳🇱 Netherlands - Free 

(Letterbox) parcel (1-2 working days, usually delivered the next day)

🇧🇪 Belgium - Free package (1-3 working days)

🇩🇪 Germany - Free parcel (DHL 1-3 working days)

🇫🇷 France - €4.95 parcel (GLS 2-5 working days)

🇦🇹 Austria - €4,95 parcel (GLS 2-5 working days)

🇩🇰 Denmark - €4,95 parcel (GLS 2-5 working days)

🇮🇹 Italy - €9,95 parcel (UPS 3-7 working days)

🇨🇭 Sweden - €15,00 parcel (UPS 3-7 working days)

🇫🇮 Sweden - €15,00 parcel (UPS 3-7 working days)

🇸🇪 Sweden - €15,00 parcel (UPS 3-7 working days)

🇬🇧 United Kingdom - €15,00 parcel (UPS 2-5 working days)

🇺🇸 United States - €15,00 parcel (Fedex 3-7 working days)
Here you will find more information on our shipping process.
Exchanges and returns
Exchange or return within 14 days of receipt.
Frickin's collection is exclusive and is not produced in large quantities. Due to our limited collection and the fact that gloves are seasonal, we offer the option of exchanging or returning orders within 14 days of receipt. 

DURABLE LEATHER GLOVES
Frickin aims to produce its leather gloves from by-products derived from the food, wool and dairy industries.
Leathers
Enter a wealth of versatility and character, where leathers a storytelling. Be seduced by the natural beauty and unique features that imbue each caress with a sense of timeless class.